Water Pistol Grunt

Posts: 18
Joined: Thu Dec 31, 2009 8:21 am
wonder anywhere I can get install guide for MB-evx58 block on evga X58 SLI?

Thx
---
Water Pistol Grunt

Posts: 18
Joined: Thu Dec 31, 2009 8:21 am
Got the MB all set up and running =). Thx HELLFIRETOYZ!!
---
Tactical Bucket Splasher

Posts: 301
Joined: Sat Nov 01, 2008 8:56 pm
Location: Peoria, AZ
Contact:
Post pics!
Hellfire - multi-mission, and multi-target precision-strike capability weapon system, "fire-and-forget!"

BFG GTX285 OC'd 3-Way Blocked
Asus P6T7 SuperComputer Blocked
i7 920 @ 4.21Ghz Blocked
Corsair DDR3 1600 - 6Gb
OCZ Vortex SSD 120
---
Water Pistol Grunt

Posts: 18
Joined: Thu Dec 31, 2009 8:21 am
My first time doing the WC, did my best!! Thx again HFT for order the parts and help on install the kit. =)
MY I7-920 running 10C cooler on 4.2GHZ than my last 3.8ghz air cooling. =)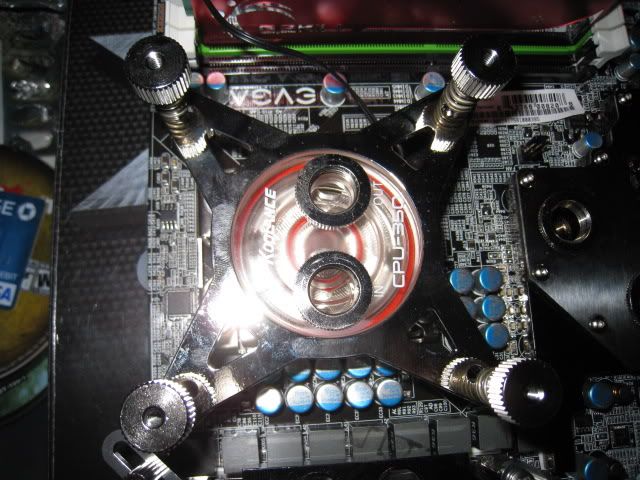 Some of the pictures on Evga X58 3 SLI 758 MB
---
Water Pistol Grunt

Posts: 4
Joined: Sat Feb 13, 2010 7:47 pm
Kiki,
I too have been looking for a installation guide for this block. I'm assuming by the pics you posted that you found one or someone gave you instructions. Could you post them, or provide a link please? I really just need to know which chip the thermal compound and thermal tape are for. I don't want to do it backwards and screw anything up.
---
---
Return to "Water Blocks - Motherboard"
Users browsing this forum: No registered users and 1 guest