Was wondering if and when you would be developing a 120x15mm fan for those tight fit cases. I have a dual 120mm radiator and don't have room for any fans under the radiator to pull the air thru therefore i have to have them push in from the top in which i need 15mm thick fans max. I'm using scythe fans but unfortunately the TMS-205/ TMSEB-205 combo burned up a pair of fans already.
These TMS units are by far the best thing since sliced cheese but when it comes to controlling fans other than yours.. they don't cut the cake
Here is the system after bleeding was complete... power supply not installed at time of vid
http://www.youtube.com/watch?v=_XmMYavIRlE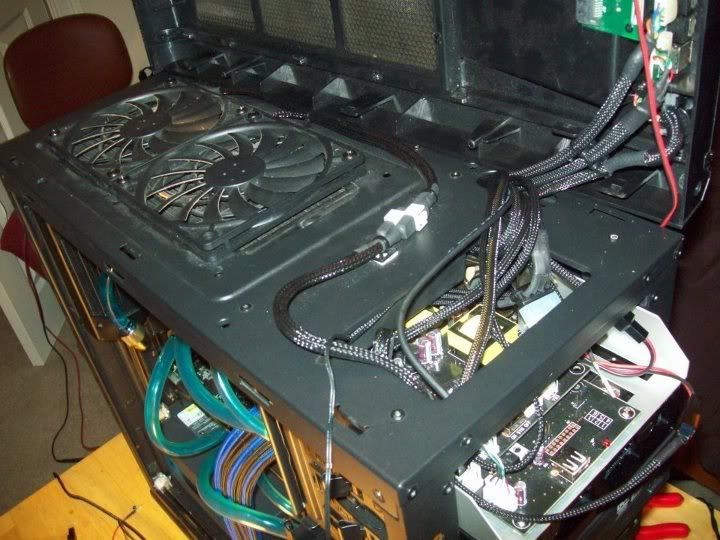 As you can see in image #1 fan is disabled @ idle #5-6 are not in use. I was also told by many that this parallel loop would not work, note the flow.
Ch1 indicates water temp at beginning of loop, ch2 is end of loop, ch3 is in case temp, ch4 is ambient into case @ idle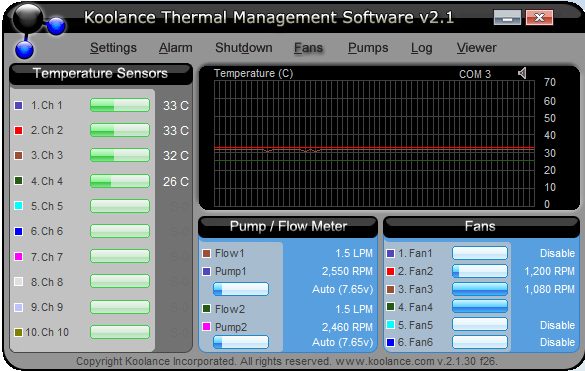 System
Case: Cooler Master 690 II Advanced
Mainboard: Asus M4A89GTD-PRO
Processor: AMD Phenom II x4 965
Memory: Corsair 16gb 1333Mhz
Graphics: MSI 6870 Hawk
Power: Corsair HX1000
SSD Mushkin Chronos Deluxe 240gb
HDD: Western Digital 1tb & 1.5 tb
Cooling: Full Koolance custom liquid